Selected Specifically for the Outer Banks Home
"After 20 years of servicing spas on the Outer Banks, I have seen what works and what doesn't - especially at rental homes. I decided to find a manufacturer using the best shell design and acrylic, as well as equipment, and then customize the additional features. After finding a manufacturer and visiting their warehouse to ensure quality and specifications, I'm excited to offer what I think is the ultimate OBX hot tub!" - Brandon Pittman, Owner of Riptide Pool & Spa Service
Built in the USA using only the very best materials, this spa will offer you and your guests years of relaxation. The ergonomically designed shell includes various style bucket seats with neck therapy and complete back massage, a unique corner cuddler seat, and power message footwell. The step-down provides easy access in and out of the spa and can be used as a warm up and cool down seat. Combine all of this with the maintenance free Permawood™ Cabinet, ThermoService® Foam Insulation System, and Lucite® acrylic for the ultimate Outer Banks ready hot tub.
What makes "The Shore" the perfect OBX Spa?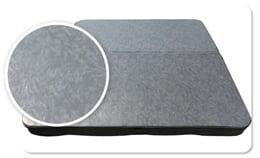 Cover:
Features 2 lb-high density double plastic wrapped foam, 4"-2" taper, aluminum reinforcement, and vinyl sleeve in light gray color (best for hiding blemishes and fading). A durable storm strap and stainless steel eyebolts will be installed instead of typical vinyl attached straps (which often causes sleeve tearing due to guests or high winds).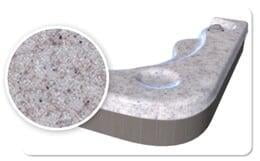 Shell:
Continuous cast textured acrylic in sierra tone hides sand, resists bleaching, and is scratch resistant. Includes stainless steel jets for durability, but excludes features known to cause issues in all spas: diverter valves (prone to failure), waterfalls (subject to leaks), ozonators (fail and trip breakers), and headrests (harbor bacteria).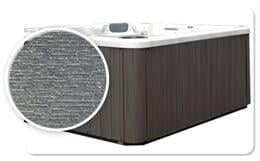 Cabinet:
PermaWood™ (long-lasting and maintenance-free synthetic material) in a neutral slate gray blends with any exterior/pool area colors and combines well with the sierra shell and light gray cover.
• Size: 7 Foot size fits most pool decks (which tend to be narrow on OBX) but can still accommodate 8.
• Insulation: ThermoService Insulation™ combines a shrink wrapped shell and reflective foam backed cabinet to create dead air space for maximum efficiency. In addition to thermal retention, another advantage over spray foam-filled units is easier leak detection (which will lower repair labor costs).
Warranty: 25 Years Structural on Shell & 2 Years on Parts

Complete your spa set up with SPA STEPS, COVER LIFT & CAP More details >